The Organic Farming Research Foundation 2022 National Organic Research Agenda (NORA) is a report informed by surveys and focus groups conducted in 2020 with over 1,100 certified organic farmers and ranchers across North America.
What Farmers Said
In the NORA report, nearly 80% of transitioning growers cited "greater resilience to climate change through organic practices" as a motivating factor to certify organic.
"Adapting to climate change" ranked in the top 10 production challenges faced by organic farmers.
A Personal Perspective
by Caroline Baptist, OFRF Communications Manager and Owner/Farmer of River Valley Country Club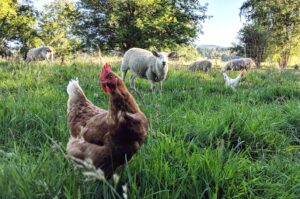 My farm is nestled in Washington state's Snoqualmie Valley, an idyllic area just outside of the Seattle metro area held on the traditional lands of the Coast Salish people. Since 2017, I have raised sheep, heritage poultry, and organically grown row crop vegetables on five acres ( approximately three in current production). The farm is surrounded by three bodies of water: a natural slough, Patterson Creek, and the Snoqualmie River. The latter, which spans 45 miles through King and Snohomish counties, is prone to flooding which causes significant property and economic losses to local farms.
Farming on a floodplain and a floodway can be a challenge and changes in climate over the years has only exacerbated this issue. The property owner from whom I lease land from remembers experiencing 1-2 major floods a year when he first began farming in the area in 1993. More recently, we've seen these numbers double and triple — some years more frequently and across longer stretches of the winter and spring seasons.
A surprise flash flood hit in October 2019 crested at 58 feet, putting my farm and neighboring lands underwater. "Catastrophic floods, arriving earlier in the season, close local roads and destroy any crops remaining in the fields," the Snoqualmie Valley Preservation Alliance said in a statement. Local farms suffered crop and economic loss during what's considered peak pumpkin patch season.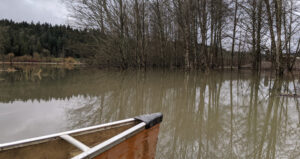 Having been "flooded in" by myself for the first time (as local access roads were closed), I waded through 4-5 feet of water to carry my neighbor's pigs and our farm dogs to a farm pad. Some areas of the farm were under water by 15 feet and accessible only by canoe. The financial sting of losing cabbage, beet, and kale crops that I could no longer sell was superseded by the emotional grief of losing pastured animals whom I could not bring to higher ground quickly enough. This flood and every flood since is a sobering experience, illustrates clearly that the climate crisis is real, and it affects farmers firsthand.
Five more floods in a 7-week period hit this area from December 2019 to February 2020.
Conversely, the Snoqualmie Valley has experienced rising temperatures, a trend seen across the state, country and globe. According to NOAA, 2021 was the world's 6th warmest year on record. A Pacific Northwest heat wave in June 2021 lasted three days with temps above 90 degrees, an unusually high number during a month that locals characterize as "June Gloom." I lost over 1,000 cabbage plants that month, though fellow farmers market vendors suffered even greater losses.
Building strong healthy soil is crucial to avoid soil erosion that's often caused by flooding. 
Though these changes in climate are downright devastating to the well-being of my farm, the health of my flocks, and my vegetable yields, there are strategies I try to implement to protect the land and animals I am honored to steward.
Riparian buffer zones allow river waters jump the banks with less intensity, reducing flood peaks and erosion rates.
Cover cropping helps with soil water infiltration, helps dry out flooded soil, and promotes the growth of microorganisms that can manage nutrient cycling.
Rotationally grazing flocks across paddocks throughout the year to avoid soil compaction and helps manage animal waste that would otherwise be concentrated in one area.
Soil testing is conducted once soil ground is dry to determine what organic nutrient amendments might be appropriate for the coming production season.
Additionally, information-sharing amongst fellow farmers is crucial during extreme weather changes. A handy app for the Snoqualmie Valley that was created by and for residents and farmers in the area has proven invaluable during flood season.