Thelma Velez, OFRF Research and Education Director, and Mary Hathaway, OFRF Research and Education Coordinator, recently attended the 2023 Southern Cover Crop Council Conference in Baton Rouge, LA. In this blog post Mary shares some of the highlights from thought-provoking sessions and stimulating conversations happening in the world of cover crops.
February 15-16, 2023 the Southern Cover Crops Council (SCCC) hosted their second bi-annual conference in Baton Rouge, Louisiana. The conference brought together farmers, researchers, industry professionals, and extension services for two days of knowledge-sharing and networking through producer panels, breakout sessions, poster sessions, and field demonstrations. The conference was also a great opportunity for us to share OFRF's Southern soil health Guidebook and our new, free online course: Soil Health Strategies for the Southern Region.
The breakout sessions included a wide range of topics, such as: Cover Crop Use in Organic and Vegetable Systems; Utilizing Cover Crop Biomass for Forage; Cover Crop Impacts on Pest and Weed Management; Unintended Consequences of Cover Crops; Choosing Cover Crop Varieties, in addition to sessions on farmer adaptations to equipment, and of course, soil health. As with many good conferences, you can find yourself ruminating on which will be the most interesting or informative sessions to attend. As someone who has felt the fear of missing out on a compelling presentation, I was relieved to find that the conference organizers  designed the agenda using a flipped model so that attendees had a second opportunity to participate in any of the given sessions they may have otherwise missed.
The specialty crop farmer panel above was especially lively. From Left to Right, Donna Isaacs, executive director for Campti Field of Dreams, John Bitter, farmer and owner of Frog Song Organics in Florida, Arnold Caylor, former director of North Alabama Horticultural Research Center and farmer, and Ed James, citrus grower and owner/operator at J&R Groves in Florida.
While Donna Isaacs is the ED at Campti Field of Dreams, a Louisiana non-profit focused on outreach and education in historically-underserved communities, she also co-owns and operates DeLaTerre Permaculture Farm, a 14-acre diversified farm where they support and teach beginning farmers how to grow using regenerative organic practices and also implement No-Till Organic Market Garden Production statewide as part of a USDA NRCS Conservation Innovation Grant. John Bitter and his partner, Amy Van Scoik, of Frog Song Organics grow over 80 varieties of fruits, vegetables, and herbs in Alachua County, Florida. They also raise chickens and pork on pasture and integrate their livestock and cropping systems with the use of cover crops. Arnold Caylor has been using cover crops in vegetable production systems in Alabama for many years. He has experience using a variety of mixtures for summer and winter cover crop, including growing brassicas for pest control, cereals for biomass and weed control, and legumes for nitrogen. Ed James, grows citrus on 45 acres and now incorporates about a dozen different annual cover crop varieties. He also educates other citrus growers on the benefits of cover crops provides 100 percent of the nitrogen in his grove with cover crops.
The poster sessions showed a lot of great research is happening at universities across the South with respect to nutrient management, building soil health, and utilizing forage for dairy operations. The highlight of the SCCC was the opportunity to visit the Doyle Chambers Central Research Station at LSU's Ag Center, where researchers had prepared field demonstrations. While the weather had threatened rain, it held off and gave us a windy overcast day perfect for hay rides through the fields. We learned about the use of technology, such as drones and PlantMap 3D cameras, for measuring cover crop biomass, as well as, the small-scale vegetable garden cover crop mixes comparisons before we had to rush to catch our flights home. 
While the producer panels, breakout sessions, and field demonstrations were all very enlightening, I think the true magic of the event happened in the conversations in between sessions. Covid-19 led organizers to cancel the 2021 conference, so us passionate advocates and practitioners in the cover cropping world were happy to gather and share the work that had transpired over the past few years. I was so grateful to get a chance to catch up with colleagues, learn more about ongoing cover crop research, and practical cover crop practices that farmers are integrating into their farm. I can't wait for the next convening in 2025, Puerto Rico, here we come! 
Find out more about the Southern Cover Crops Council and the great work they're doing here: https://southerncovercrops.org/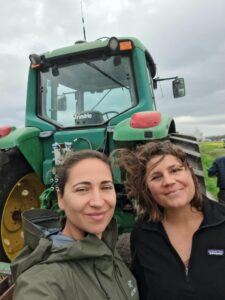 Thanks to the folks at Southern SARE for providing a scholarship for my colleague Thelma and me to attend this event!